Step 6. Specify the Temporary Instance
On this wizard page, you can select whether you need to use a temporary instance when restoring an image-based backup.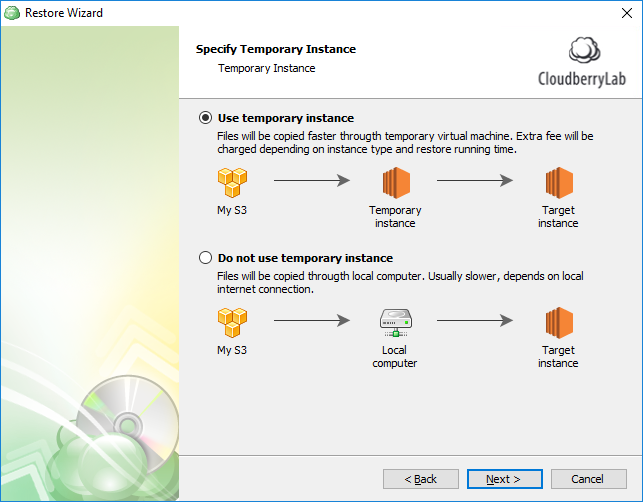 These two options are described below.
Do not use temporary instance This option enables copying your files via a local computer, which is usually slower and depends on the local Internet connection speed.
Use temporary instance This option enables faster copying of your files at a higher cost, which depends on the instance type and running time of the restore process.
First, you need to select an existing, or specify a new "S3" or "S3 China" instance account. See the following article to learn how to add a new S3 account to MSP360 (CloudBerry) Backup: Signing up for Amazon S3.
Please make sure that the specified account has all required EC2 and S3 permissions.
After selecting an account, specify the main settings of a target temporary instance:
Please be informed that MSP360 (CloudBerry) applications have no control over the processing time required to accomplish an image restoring process. Consider the following steps that are required to restore a disk image on a temporary instance:
Launching a temporary machine, which takes 4 minutes on average.
Installing a Remote Desktop Protocol (RDP) client.
Processing an image-based backup. The time required to perform this task depends on the image that is being restored.
Processing the created image by AWS. Performing this task takes the longest time, which depends on the image size, location and other factors.
AWS does not guarantee that a restoring process will be terminated when a restored machine fails to meet any requirements.

If a restore process has failed for any reason, you can try to customize the source machine's settings according to general AWS recommendations.