Step 6. Retention Policy
The next step is retention policy configuration. You can indicate if you want to delete versions older than a pre-defined number of days from the modification or backup date. Similarly, you can explicitly determine the number of versions of each file that must be retained on the storage.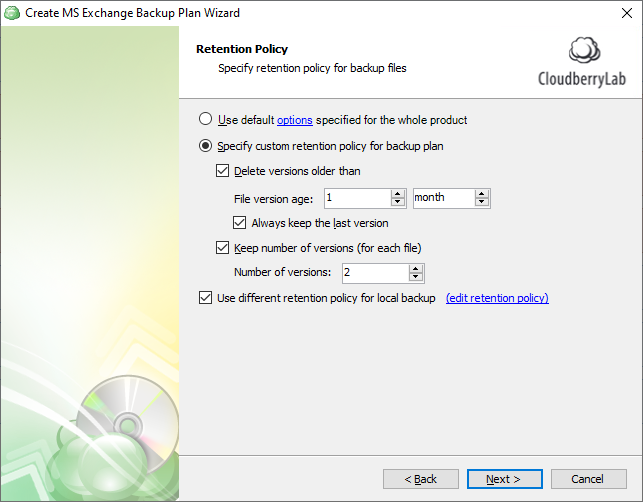 The following settings are available:
Use default options specified for the whole project. Select this option to use the predefined retention policy settings. To view and edit them, click options link in the legend
Specify custom retention policy for backup plan. Select this option to use custom retention settings for the backup plan

Delete versions older than. Select this check box to delete old file versions in a cloud storage, then specify the time period for this action to be applied
Always keep the last version. Select this chеck box to keep the last versions of MS Exchange databases and logs in a cloud storage regardless other settings
Keep number of versions (for each file). Select this check box to specify the number of versions of database files that are kept in a backup storage, then, in the Number of versions field, specify the number of versions
Separate Retention Policy for the Local and the Cloud Storage
Once you selected a Hybrid backup plan type, MSP360 (CloudBerry) Backup enables you to configure a separate retention policy for local destination and cloud destination. In this case the Retention Policy step of the backup wizard will feature a Use different retention policy for local backup. To configure the separate retention policy, click the edit retention policy link.
In the Retention policy for local backup dialog box, specify custom retention policy settings for local backup.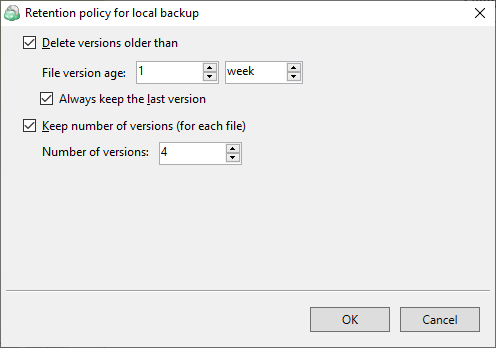 Once finished, click OK.
Click Next to open the Schedule step.