Retention Policy
This article describes the settings available on the Retention Policy tab of the Options dialog.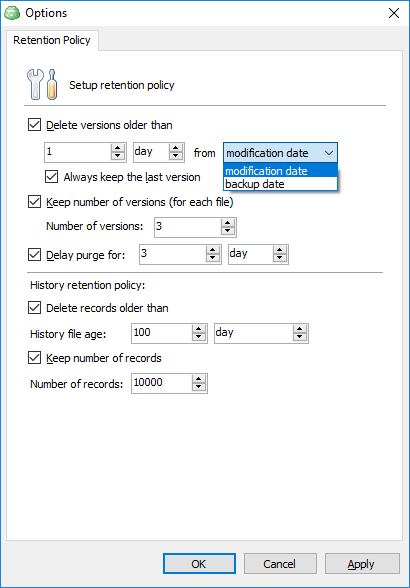 On this tab, you can specify the global retention policy settings that will apply to all backup plans by default, unless they have been provided with individual retention policy settings.
If you enabled ransomware protection, a backup service will ignore the current retention policy settings on detecting ransomware activity. In this case, the backup service will keep the latest undamaged version of your files regardless of what retention policy is defined for your application or for the current backup plan.
The following retention policy settings are available on this tab:
You can make a backup service delete file versions that were modified or uploaded to your backup storage more than a certain number of days ago. When enabling this option, you can also make the backup service always keep the last version of each file regardless of when they were backed up.
You can specify the maximum number of versions that a backup service should keep in the storage for each file.
You can specify a time period for which locally deleted files should be maintained in the backup storage before being purged. After these files become removed from the backup storage, you will no longer be able to restore them.
In addition, you can specify separate retention settings applied for the history that MSP360 (CloudBerry) Backup maintains on the History tab to keep track of any changes made to the local and target storages, as well as the local repository. The following retention policies are available for the backup history:
You can make the history keep records only for a certain period of time. Records will be deleted once they exceed the specified lifespan.
You can limit the maximum number of records that a history can maintain.
With Amazon S3 and Google Cloud, you can configure lifecycle rules that define when and how to delete your data or move it to another storage class.
​