Backup Prefix Explained
The backup prefix is the backup data identifier in a bucket of backup storage. Backup prefixes are used to isolate backup data uploaded from different instances within one bucket.
By default, the backup prefix name is named after the computer name specified in the system settings of the machine Backup for Windows is installed on.
To avoid confusion, it is recommended to use the default name. You can also create the custom backup prefix
Before creating a restore plan, make sure the storage account is set to a required backup prefix.
The backup prefix currently set for the storage account is specified in the brackets right after the storage account name.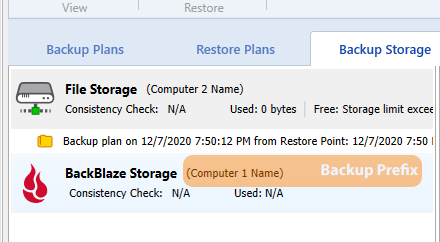 In case you restore your backups to another computer, use a Bootable USB / ISO file created on another computer, or have several custom backup prefixes, backup prefixes may differ.
To change the backup prefix, proceed as follows:
In the application menu, select Edit Storage Accounts, then select the necessary storage account and click Edit.
On the Storage Account tab, click Advanced Settings, then select one of the following modes:
Regular mode: back up and restore. This mode is used for both operations: backup and restore ones. In this mode, you can change the backup prefix or create a new one.
Note that if you change the prefix name, you will be able to view the backup data stored in the directory of the bucket with the name specified in the Backup prefix field. If you specify the new prefix name, the new directory with this name will be created in your bucket. All backup plans associated with this storage account start using this backup prefix to keep back up data
Restore Only. This mode is used for restore purposes only. All backup prefixes are available for restore in this mode.