Backup Plan Chain Explained
A backup chain is a configured sequence of backup or restore plans (only a backup plan can be the leading backup chain link), in which the completion of a backup plan can be used as a trigger for starting the specified backup or restore plan. The backup chain can be configured using the Backup plan wizards.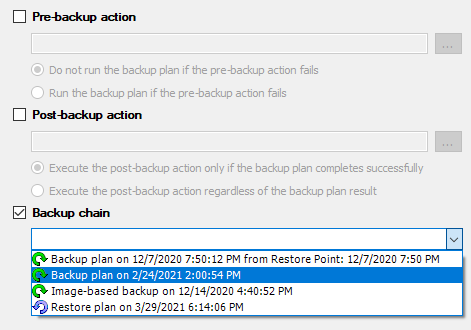 How to Create a Backup Plan Chain
To create a backup chain during the backup plan creation or editing on the Pre/Post actions step of the backup plan wizard select the Execute following plan after backup completes: check box, then select a backup or restore plan to run if specified conditions are met.

Configure the conditions:
Execute the specified plan only if backup has been successfully completed. Select this option to start the specified backup or restore plan only in case of successful completion of this backup plan
Execute the specified plan regardless of the backup result. Select this option to start the specified backup or restore plan in any case
In case you chained a backup plan, you can select the backup type for the chained plan: full backup or apply the current backup plan settings: thus, if the last backup run is full, the chained plan will be full as well, if the last plan run was incremental, the chained plan will be incremental
To learn more about the full backup, refer to the Full Backup chapter