In-Session Options
While the connection is established, a number of in-session options is available:
Multi-Screen Support
During the session, select the displaying mode for multiple monitors.
By tapping Screen during the session, select the following options:
Switch to a particular monitor. Displays contents of the selected monitor
Split mode. Displays each monitor's contents in a separate window on the bottom of the screen, with the ability to switch them by tapping
Multimonitor mode. Displays all monitor contents in one window merging images into one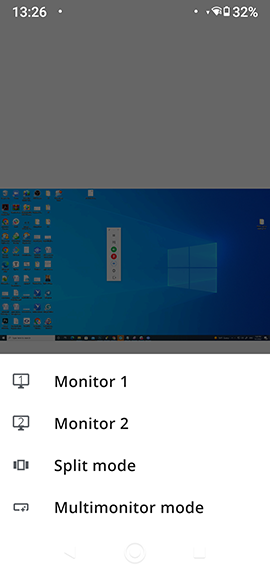 More
Click More, then click Options, then select Screen config to access the following settings:
Draw cursor. Toggle the display of the remote cursor
Disable Aero. Enable this feature to improve the connection speed
Disable desktop wallpaper. Enable this feature to improve the connection speed
Quality. Switch color display mode
Resolution. Set the resolution for the selected monitor
Sound
Tap the sound icon to manage sound.
Quick
This feature allows you to send pre-configured hotkey combinations, e.g. ALT + F4.
Mute
This option allows you to mute the microphone.
Disconnect
Tap Disconnect to terminate the connection.