Manage Maintenance for Existing License
As of December 1, 2021, MSP360 changes the CloudBerry Backup licensing policy from perpetual license to the annual subscription model. Perpetual licenses purchased prior to December 1, 2021, will stay active along with the possibility to purchase the annual maintenance.
This section is intended for the users who already have a perpetual license only.
When you initially purchase the product, it only includes a lifetime license. However, the maintenance for the product that includes software updates and technical support is a subject of a separate purchase. The following options for maintenance are available:
View the instructions below on how to purchase maintenance for your MSP360 (CloudBerry) product.
Purchase Maintenance for Existing License Inside MSP360 (CloudBerry) Backup
To purchase separate maintenance, proceed as follows:
Run the application.
In the application menu, select Help, then select About.
If maintenance is expired, the Buy Maintenance link is available. This link redirects you to the MyCommerce marketplace where you can purchase the maintenance for the next period (12 months). The maintenance is already linked to your license key.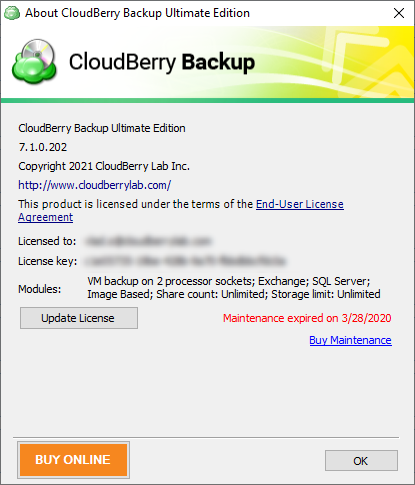 Once the maintenance is purchased, update your license. To do this, proceed as follows:
In the application menu, select Help, then select About.
Click Update License.