Manage Maintenance
When you initially purchase the product, it only includes a lifetime license. However, the maintenance for the product that includes software updates and technical support is a subject of a separate purchase. The following options for maintenance are available:
View the instructions below on how to purchase maintenance for your MSP360 (CloudBerry) product.
Purchase Maintenance Along With New License
Run the application.
Click Buy Online, then select the required CloudBerry Backup edition.
You will be redirected to the MyCommerce marketplace.
Select the purchase currency (the example is in Icelandic krona). Your cart already contains the selected CloudBerry Backup license and annual maintenance for this license. The annual billing period is 12 months.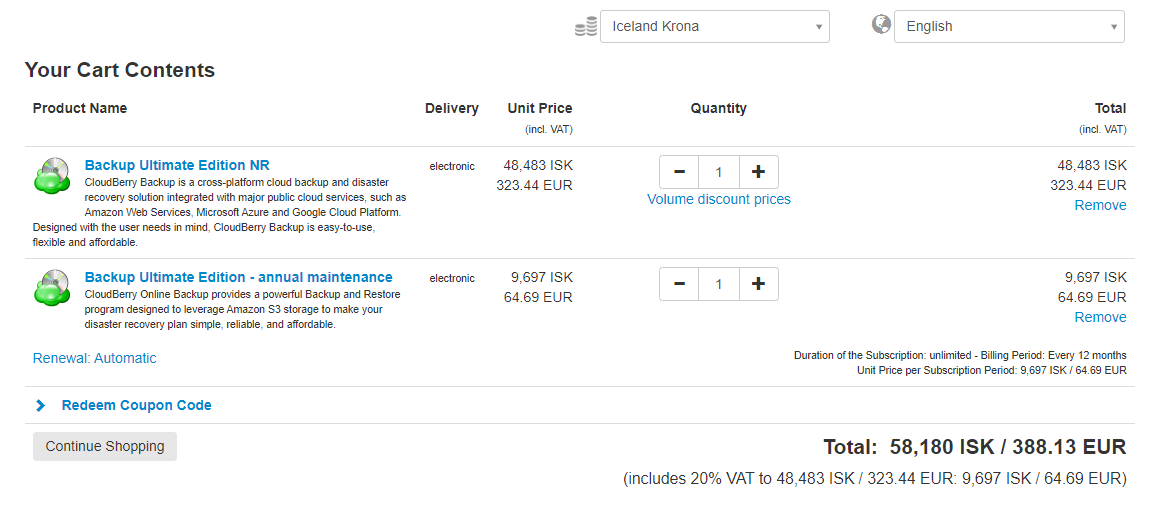 Specify your email address. It is recommended to use the email address you intend to use for all your subsequent purchases: then all your CloudBerry product purchases will be associated with this email address.
Specify the required personal and payment information for your order.
Make sure everything is correct, then click Buy Now.
An email message containing the license key and order ID will be sent to the specified email address. It is essential to keep this information in a safe place. The order ID can be used to buy maintenance for your license in the future. The license key is required for the product activation.
Purchase Maintenance for Existing License Inside MSP360 (CloudBerry) Backup
To purchase separate maintenance, proceed as follows:
Run the application.
In the application menu, select Help, then select About.
If maintenance is expired, the Buy Maintenance link is available. This link redirects you to the MyCommerce marketplace where you can purchase the maintenance for the next period (12 months). The maintenance is already linked to your license key.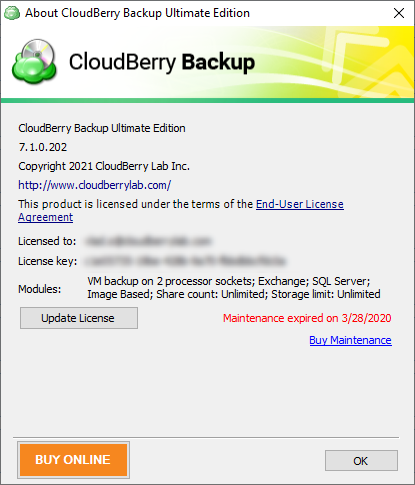 Once the maintenance is purchased, update your license. To do this, proceed as follows:
In the application menu, select Help, then select About.
Click Update License.