Preferences
General
In the Preferences menu, there are numerous settings available.
Display Name. Specify the displayed name upon connecting to a remote computer
Default Microphone Settings. Default microphone state upon connecting to a remote computer
Apply Key Combinations. Specify hotkey combinations (for example, ALT-TAB to connect to a remote computer).
Logging
Save chat messages. Saves your chat history
Logging level. Sets a logging level, which is significantly important for troubleshooting.
Address Book
You can access the Address Book by clicking on the corresponding button in the main window of the application.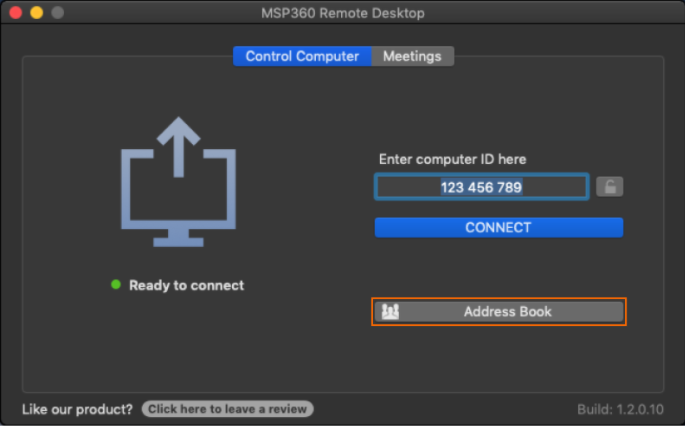 In the open window you will see:
Saved contacts. List of all saved contacts.
Add new Remote Computer and Remove. Allows you to add or remove contacts in the Address Book.
Contact details. ID, Contact Name and Encryption Key for the selected contact.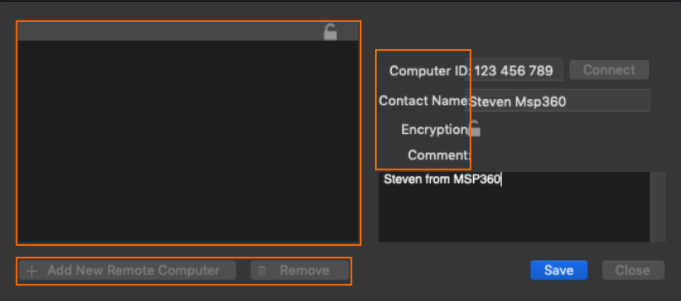 Computer ID and Contact Name are required fields. Encryption Key and Comment are optional
Once all required details are specified, click Save. The new record is added to the Address Book. To connect, click Connect or double-click the entry.