In-Session Options
Once the session is established, a in-session menu appears on the top of the host screen:
Windows

MacOS

This control allows you to perform the following actions:
Show always on top
Access in-session menu
Start a chat
Change a display mode for multiple monitors (optional)
Mute/unmute the sound
Mute/unmute the microphone
Minimize/maximize the screen
Manage outgoing connections
Switch between View Only/Full Control mode
Exit the session
File Transfer feature is currently not supported by Connect for MacOS clients.
Multi-Screen Support
During the session, you can select the display mode for multiple monitors on a remote side. Select required monitor via the topmost View menu.

Or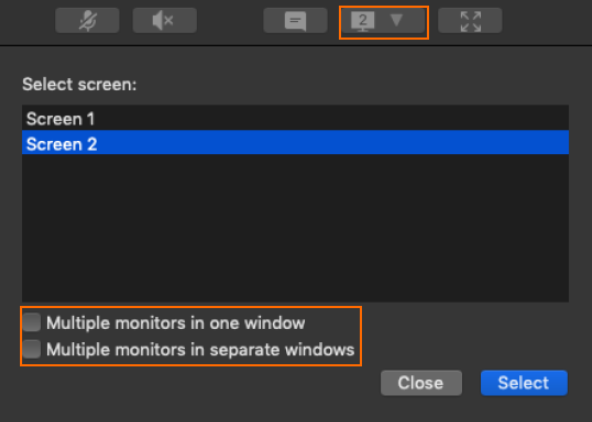 Click Monitor Configuration icon while the session is active, so you can select:
Switch to a particular monitor. Displays contents of the selected monitor
Multiple monitors in one window. Displays all monitor content in one window combining the view
Multiple monitors in separate windows. Displays each monitor's contents in a separate window. You can switch between these windows
View Menu
There is also a number of available features via the topmost View menu. By clicking this menu you can access the following settings:

View Options
Enter full screen or Exit Full Screen
View Options > Show Remote Cursor. Displays the remote machine cursor
View Options > Hide Desktop Wallpaper. Hides the desktop wallpaper, which may affect the speed of connection
View Options > Disable Aero Style. Disables the Windows Aero style, which may affect the speed of connection
Remote Screen Resolution*. Changes the remote display screen resolution. Use this option if you want to speed up the connection. As of Connect 3.3 on both sides and Unattended Access turned on, if you change the resolution, you will be prompted to save this setting. This setting can be saved for each of multiple monitors separately.