Upgrading Licenses
If you own a paid copy of CloudBerry Backup, you can upgrade to a more advanced edition by paying the price difference. To upgrade your license, proceed as follows:
Open CloudBerry Backup.
To make sure your backup and restore plans stay intact, you can export the current configuration. To do this, click Export Configuration in the application menu
In the application menu, click Help, then click About.
Copy the email address and license key and save them somewhere. You will need them for the license upgrade procedure. It is recommended to use the same email address, if possible.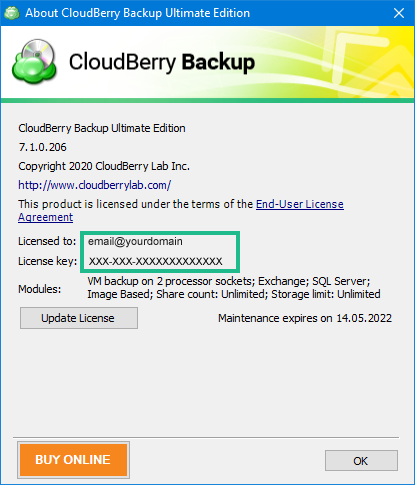 To proceed with the upgrade, release the current license first. The license must be released on all product instances it is used.
In the application menu, click Licensing.
Click Release License. Once you confirm the action, the application closes but remains installed. You can activate Cloudberry Backup again later with an upgraded license or another license. All product settings and created plans will be kept.
Open the License Upgrade Wizard on https://www.msp360.com/backup/upgrade-license.aspx.
On Step #1: Enter your license key enter your license key and email address.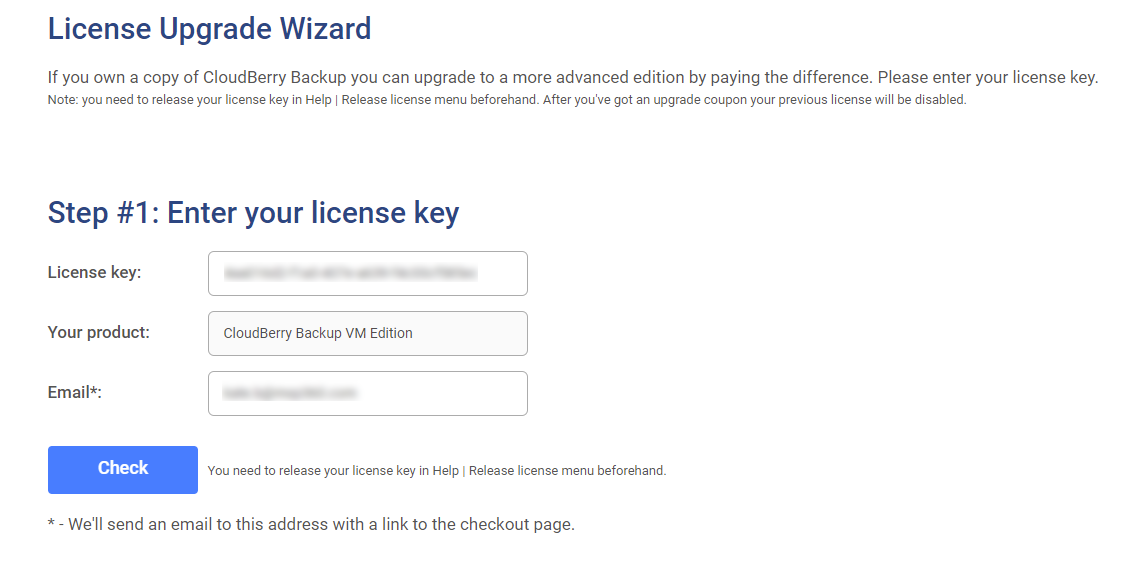 Click Check. Your current product edition will be displayed automatically. Note that you may be prompted to perform some additional steps in case the provided license key is not released on all product instances.
Proceed to Step #2 to select the available option for the product upgrade.
Make sure everything is correct, then click Check out. This operation immediately disables your current license and generates a discount (upgrade coupon) to purchase the upgraded license.
You will be redirected to the MyCommerce marketplace to perform the payment for the upgraded license and annual maintenance for it. The billing period for maintenance is 12 months. Also, you will receive a copy of the upgrade link to the specified email address. This link is valid for the next 48 hours.
The link for downloading the upgraded edition will be sent to the specified email address.
To upgrade the edition, you will need to uninstall the current edition and install the new one. All settings will stay intact
Once a new edition is installed, run CloudBerry Backup.
Repeat the product activation procedure as described in the Online Activation chapter using an upgraded license key.
If you experience any issues in upgrading your licenses, contact the MSP360 technical support team using the customer support portal.