Activation
MSP360 (Formerly CloudBerry) Backup for Linux is distributed under a licensing model, on a per-user basis. Each edition of MSP360 (Formerly CloudBerry) Backup for Linux offers a free 14-day trial version with complete functionality and a freeware version with the basic functionality for personal use.
As you run MSP360 (Formerly CloudBerry) Backup for Linux for the first time, select one of the following editions:
Home Edition. This is a free version intended for private use that supports only file-level backup without encryption or compression
Free 15-day Trial. You can try any edition of CloudBerry Backup and all of its features for 15 days free of charge
Enter your email address and then select an edition:
Personal Edition. Intended for personal use. Unlike the freeware version, Personal Edition supports encryption and compression
Server Edition. Designed for servers
Ultimate Edition. A flagship product that has no storage limits and entitles users to priority support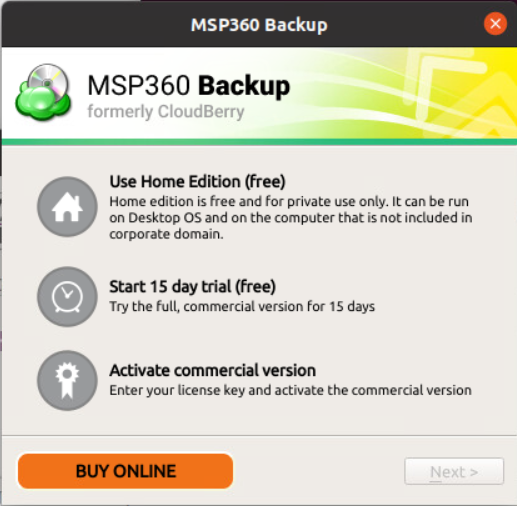 Click Activate Commercial Version. If you already purchased a license, you may enter the license key and start using Backup for Linux.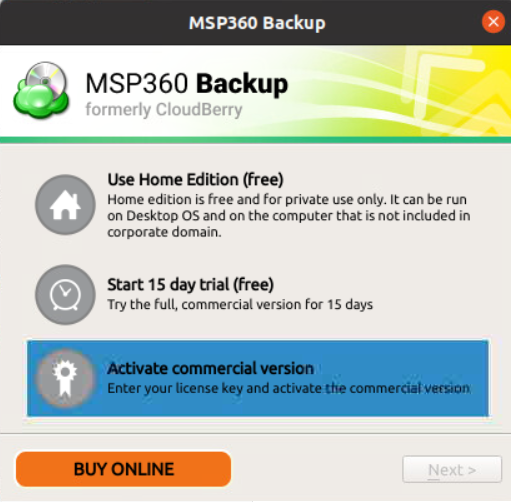 Optionally, you can also configure proxy settings by clicking on Proxy Settings.
You can always switch between various editions back and forth in the Settings menu
Backup for Linux starts.
If you do not have an internet connection, you activate Backup for Linux using CloudBerry Central.