Frequently Asked Questions
Find the answers to questions typically asked by users:
Q: How to access G Suite backup if the following event is reported Sign in with Google temporarily disabled for this app...?
A: Please, perform the following steps to add MSP Google Apps Backup to the trusted application list:
Sign in to https://admin.google.com/ with your super administrator.

Click Main Menu > Security > Access and Data Control > API Controls > Manage Third-Party App Access

Add two MSP Google Apps Backup web applications with the following OAuth Client IDs to the trusted applications:
101545705208641292657
76254656058-ue8d5fkuicrfjjhd8c1qngd2goaq3ngs.apps.googleusercontent.com
The following access type should be selected for both applications: Trusted: Can access all Google Services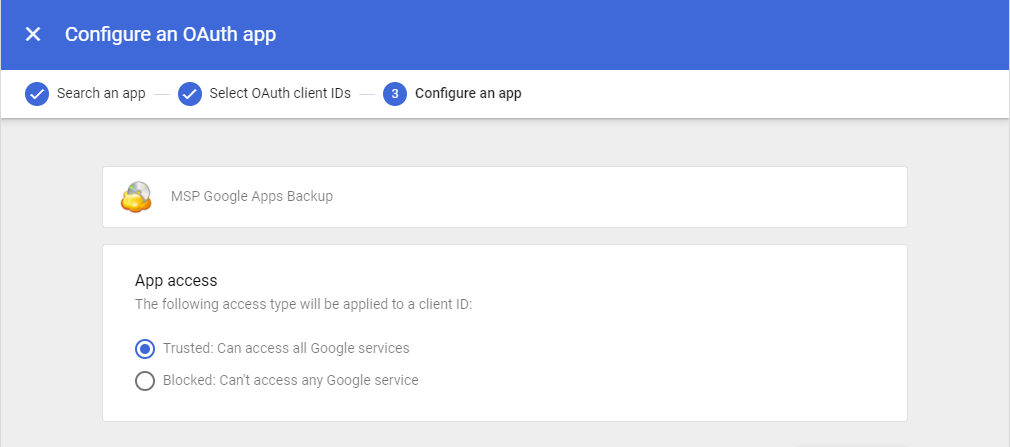 After you have added both applications you can see them in Connected apps grid with Trusted status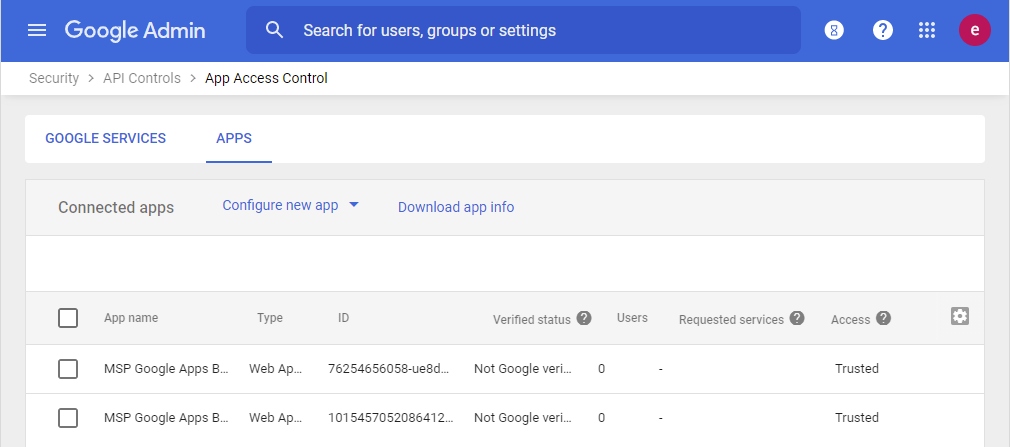 Q: Does the product use compression for backed-up items?
A: Yes. The compression is used by default.
Q: How to make sure that Shared Drives are included in backup?
A: To make sure that all the Shared Drives are included in backup routine or to remove excessive ones, select Shared Drives in the horizontal bar: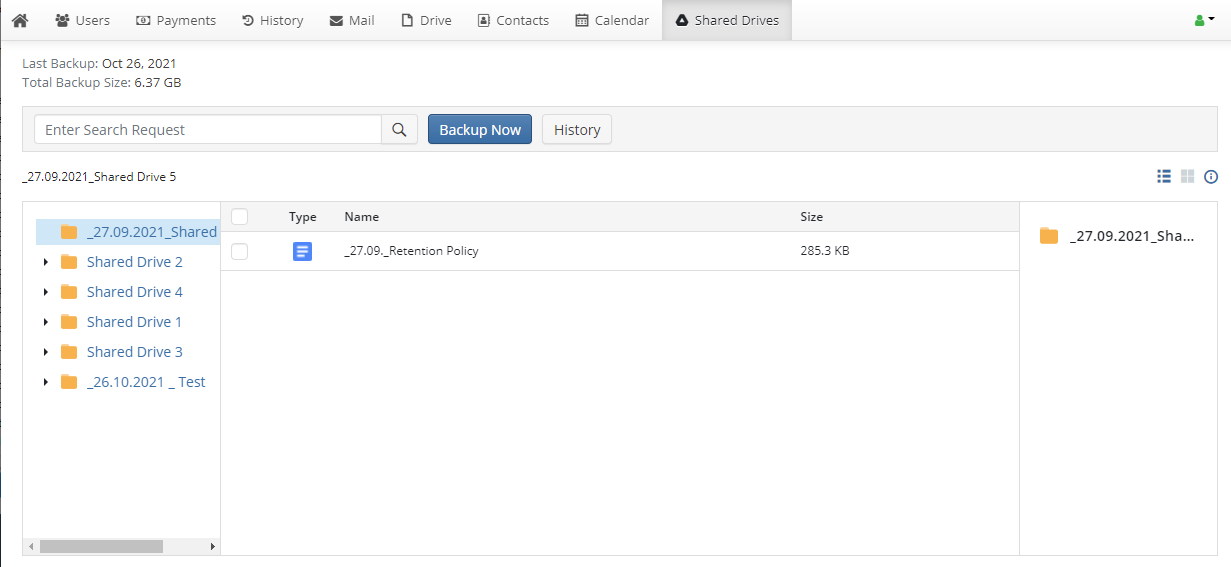 Shared Drives backup requires SharePoint/Teams/SharedDrives license for every backed up domain. If you cannot see some drive data, check whether you have enough valid licenses to backup shared drives.
I tried to delete data, but did not succeed. What should I do?
Make sure you specified an alternate email address. For security reasons, you are not allowed to delete any data unless the alternate email address is specified.
To learn how to add or edit an alternative email address, refer to the Account Settings chapter.
Q: What is a Task Manager and how do I use it?
A: A task manager is a management tool of the G Suite backup that allows you to manage registered tasks: run backup jobs, pause or cancel them.
To open the task manager, select Task Manager in the user menu to the right of the horizontal bar: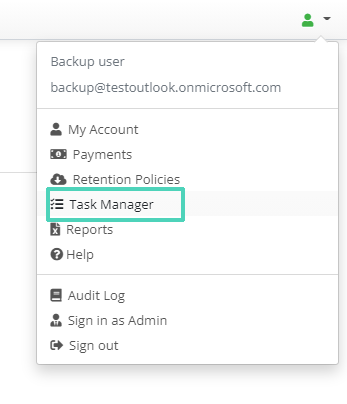 Task Manager provides you with all important information regarding the backup process:
User Name. Name of the user currently being backed up
Name. Name of the service being backed up (i.e. Mail, Drive, Contacts, Team Drives, etc.)
Task. The type of task (i.e. Backup, Restore, Deletion)
Start Time. Task starting time
Duration. Task duration
Status. Current task status (Running, Finished, Failed, Queued)
Progress. A progress bar for selected task
Actions. Available actions for this task (Cancel, Pause, Restart).
Be sure to check the Task Manager after starting a backup job, or use Email Reporting to receive reports directly into your Inbox.
Q: How do I schedule an Email Report?
A: To schedule the e-mail report on your current backup activity, proceed as follows:
In the user menu to the right of the horizontal bar, select Reports.

Switch to the Email Report tab.

Enable Email Report.
Specify email report settings. The following settings are available:
Contact Email. The email address where reports are to be sent
Time zone. Preferred time-zone (in UTC format)
Send time. Time of a day when a report is sent
Report period. Select the preferred email report period. The following periods are available:
Once you are done with settings, click Save.