Product Activation
This article describes how you can activate your MSP360 (CloudBerry) Backup version online.
MSP360 (CloudBerry) Backup is distributed on a per-user basis.
After launching MSP360 (CloudBerry) Backup for the first time, you need to choose which version you would like to use.
Use a Free Home Version
You can choose to install a freeware version for personal use. This version supports the most important features, such as flexible scheduler and retention policies.
Use a Trial Version
Each MSP360 (CloudBerry) Backup edition provides a free 15-day trial period during without restricting the application's functionality.
Activate a Commercial Version
To activate a commercial version, select the corresponding option and click Next.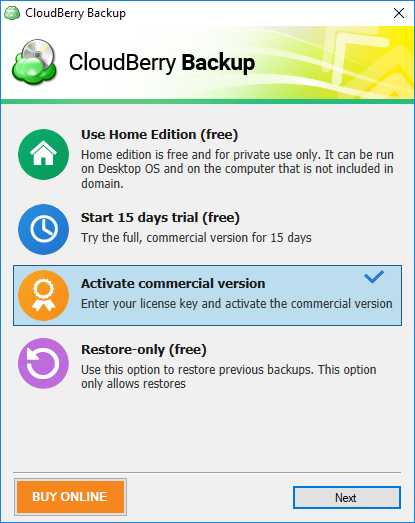 Enter the email address that you used to purchase the license, enter the license key and click Activate. You can configure proxy settings by clicking a corresponding link in this dialog.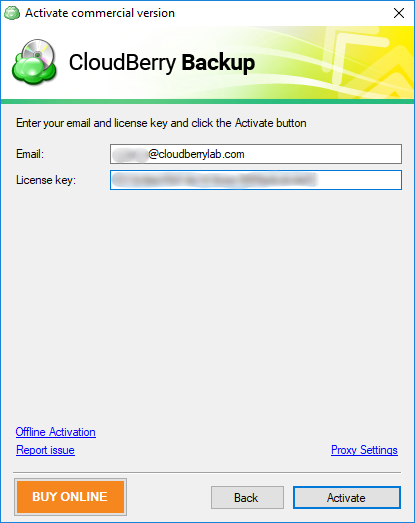 If you do not have an Internet connection, you can activate your product version offline.
Switching Licenses
At any point you can switch between licenses if you'd like to try out a different feature set or upgrade your current commercial license.
To switch your license, open MSP360 (CloudBerry) Backup. Click on the MSP360 icon on the main toolbar and point to Licensing.
From there you can:
Activate MSP360 (CloudBerry) Backup with a license key
Switch to Trial Edition
Switch to Restore-Only mode
Switch to Freeware edition